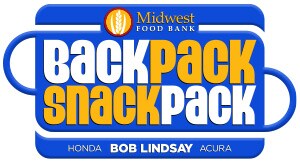 Bob Lindsay Acura & Bob Lindsay Honda are partnering with Midwest Food Bank this summer for the 1st Annual Backpack Snack Pack Drive! The goal of this drive is to provide children in Central Illinois with snack packs to bridge the weekend meal gap when school starts back in August.
1 in 6 children go to bed hungry and nearly 15% of US families struggle to put food on their tables. Studies show kids who get proper nutrition learn and behave better in school. Local support is critical to help solve food insecurity, so join us in supporting the Midwest Food Bank thru the month of July.
Download the backpack snack pack needs list here and drop off your donations at Bob Lindsay Acura or Bob Lindsay Honda today!
Bob Lindsay Acura


7500 N Allen Rd


Peoria, IL

Bob Lindsay Honda


900 W Pioneer Parkway


Peoria, IL