Honda Accord: A Legend for Good Reason
There is perhaps no big-name sedan more ubiquitous than the Honda Accord. This oft-awarded and ever-popular midsize is a driver favorite year after year-and for good reason. It sets the bar high for other midsize sedans, doing so with style and grace.
When a vehicle sports the Honda name, you can rest assured that it upholds Honda's well-earned reputation for quality, safety, longevity, and reliability. That's a mark in the Accord's favor from the start, but when you look closer at what the Accord has to offer, you'll be pleased to see that it goes above and beyond what you can expect to find in many of its midsize competitors on the road. You can't put a price on the peace of mind you feel when you know your new car is a perennial winner.
The Accord is a great family vehicle, but that doesn't mean it's boring. In fact, it's far from it. It's fun to drive, with engaging handling and a smooth ride. Passengers enjoy the comfortable seats and spacious cabin, so long road trips and daily commutes become less of a chore and more like a break from the chaotic world outside.
With impressive gas mileage and plenty of driver-assistance features, the Accord is a sensible sedan that never forgets the importance of comfort and convenience.
When you're ready to experience the Honda Accord in person, we're ready to show you our inventory of new and used models! Bob Lindsay Honda has an expansive array of Accords in stock and ready for your test drive. If you have any questions before you visit our dealership, we're happy to assist you. Just give us a call and let us start the process of finding your ideal vehicle-be it the Accord, the Civic, the Fit, or something else entirely.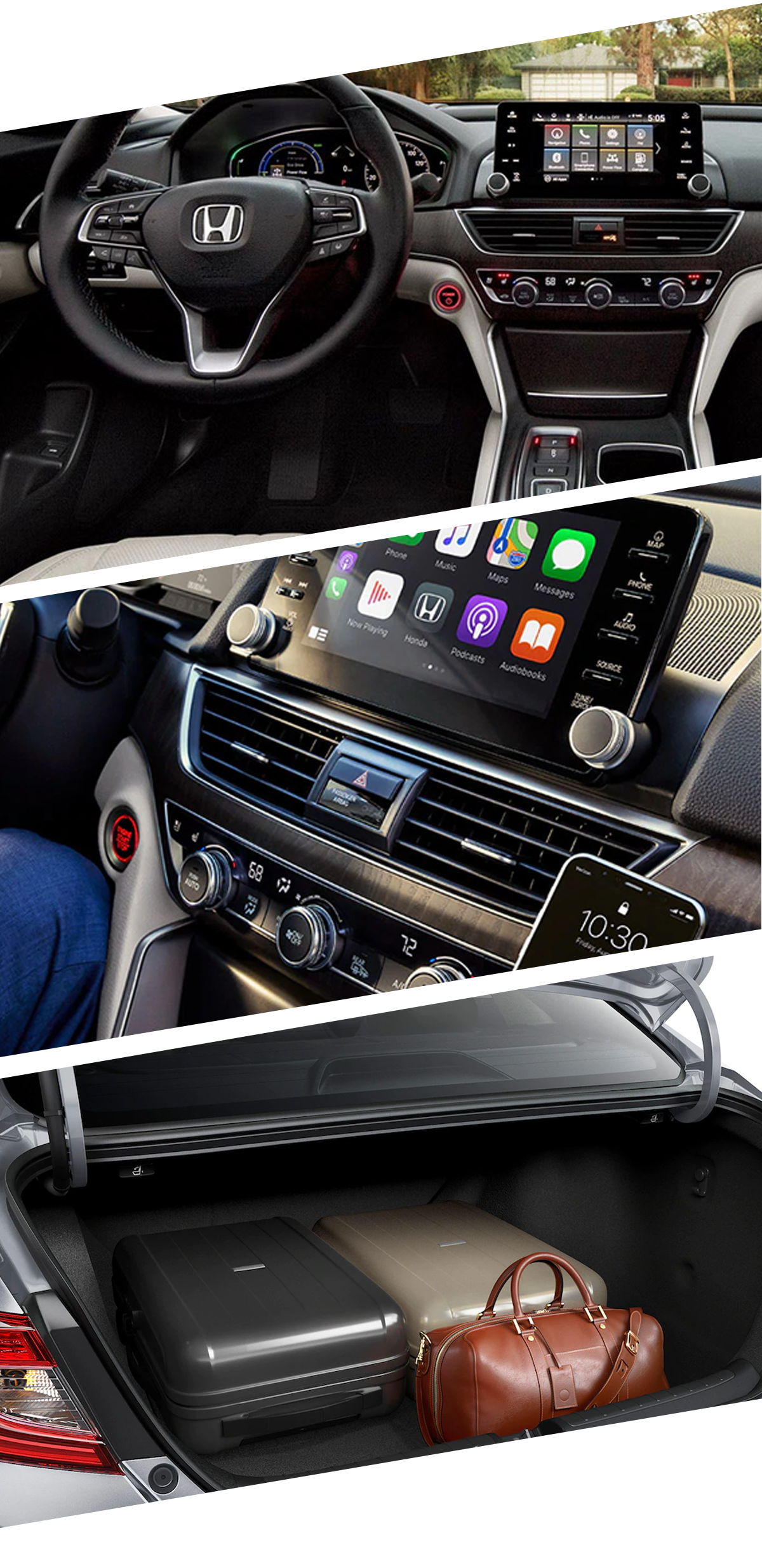 What's New in the 2021 Honda Accord?
The 2021 Accord raises the bar for this model year with a few exterior style tweaks. The revised grille showcases an edgier, more aggressive stance, while the available LED headlights do double duty - adding pizzazz and sparkle to the Accord's front end and better illuminating the road ahead with brilliant beams. Available colors for the 2021 Accord include a newcomer to the palette: Sonic Gray Pearl. Other updates for the latest model year happen inside the Accord, where the base model gains standard Android Auto and Apple CarPlay® integration. In EX-L and Touring trims, these two connectivity features receive wireless capability. The Sport SE trim replaces the EX from previous model years and blends sharp styling from the Sport trim with exciting features like satellite and HD Radio, enhanced safety equipment, and heated front seats. 
A Brief History of the Honda Accord
The timeless Accord made its debut in 1976. A larger iteration of the Honda Civic, the Accord was originally available only in a two-door hatchback style. The Accord found instant success among drivers who liked the fact that it offered more space and power while still remaining economical and reliable.
The years that followed added features that enhanced comfort (velour seats, anyone?), added options (the four-door sedan appeared on the scene in 1979), and improved the engine for extra power and capability.
A revamped Accord appeared in 1982 with a restyled body and more upscale interior. The engine continued to gain power, and features kept up with advancements in the tech world. 1990 saw another major overhaul, and the Accord gained not just a larger engine and body, but a bigger fanbase.
The mid-1990s enhanced power and safety with engine upgrades and the addition of standard dual front airbags. During this period, the first Accord V6 engine appeared.
Changes over the course of the late '90s, 2000s, and today continued to improve upon the Accord in order to keep it current and competitive. The unwavering popularity of this Honda mainstay is proof positive that it is a car that knows how to appeal to its market segment.
Buy or Lease from Bob Lindsay Honda
Ready to explore our lineup of fantastic new and quality pre-owned vehicles? They're all in stock and ready for you to peruse. Contact us today with any questions you may have, or simply stop by our dealership, located at 900 West Pioneer Parkway in Peoria. It would be our pleasure to help you find your new car!