The Honda Odyssey: The Minivan, Redefined
The family minivan. Its reputation is anything but glamorous, and purchasing one might get you a few raised eyebrows in certain circles.
To those people we say: You clearly haven't met the Honda Odyssey.
It's not your parents' minivan. It's not a bulky, barebones people mover that marks the place where youthful style gives way to adult obligations.
It's stylish. It's loaded with features. It's-dare we say it? - cool.
It moves seamlessly from school drop-offs to adventurous road trips and everywhere else you need it to go, and it does so without looking or feeling like a minivan. A powerful engine delivers a satisfyingly strong road performance.
The spacious, modern interior is designed with driver and passengers in mind, with an eye toward keeping everyone inside happily entertained and occupied in perfect comfort no matter how long or short the journey. And, as you might expect from a Honda nameplate, there are safety systems galore to allow everyone inside to relax and enjoy the ride.
Words alone might not be enough for you to cast aside your preconceptions about what a minivan can be, so Illinois drivers in and around Kickapoo, Allentown, and Eureka, make the short drive to Bob Lindsay Honda and get up close and personal with Honda's standout minivan. Get behind the wheel of an Odyssey and explore everything it has to offer. We think you'll change your tune pretty quickly.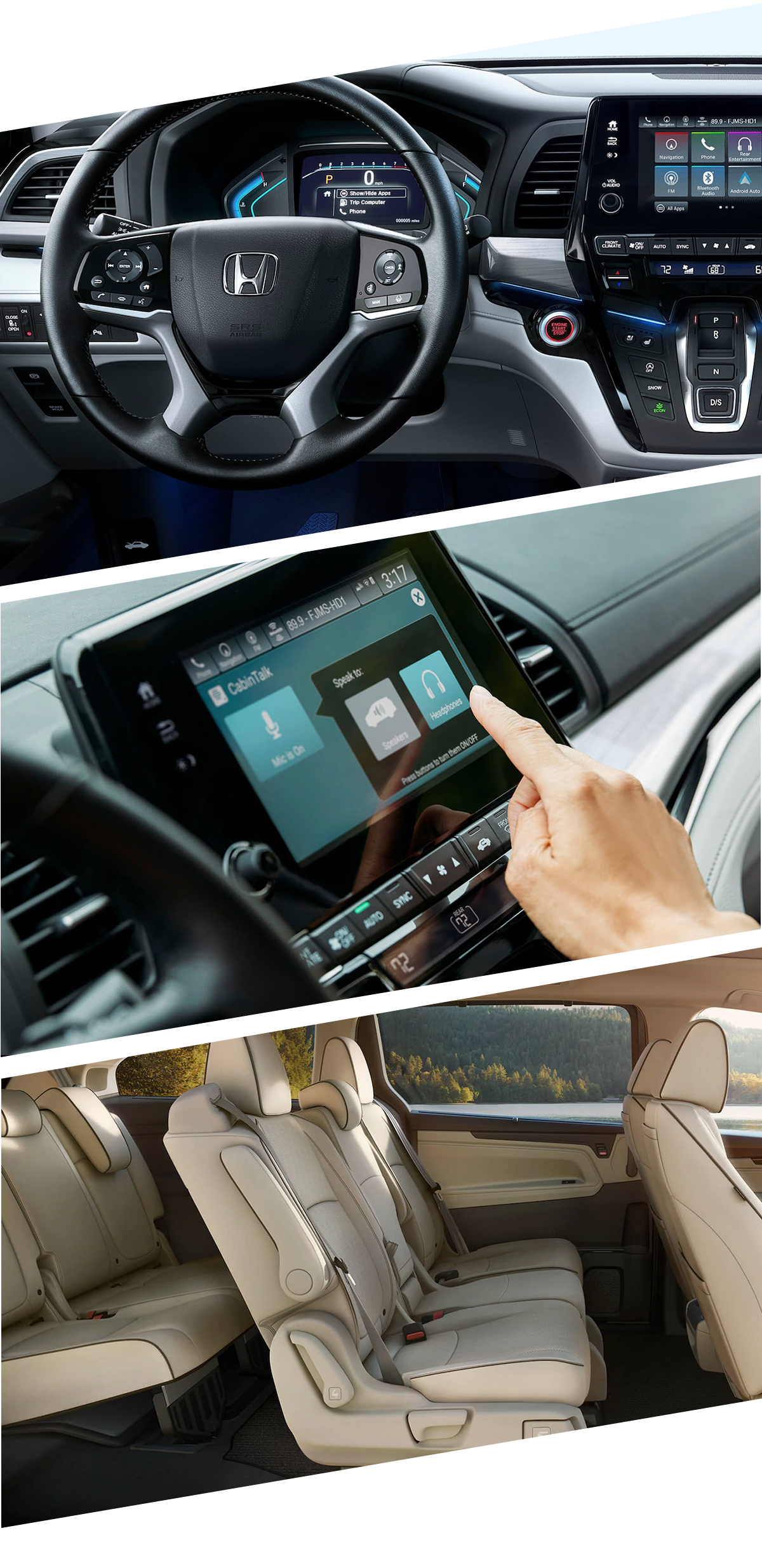 What's New in the 2023 Honda Odyssey?
The 2023 Honda Odyssey has great looks, a roomy cabin, and a powerful engine that allows it to deliver a cozy ride, a sporty drive, and an exhilarating performance. Honda has trimmed down the variants to streamline the offerings and increase the value-added features of each Odyssey. The LX trim is gone, but there is a new Sport variant. It gets gloss black exterior accents, 19-inch wheels, leather upholstery with red stitching, and ambient cabin lighting. Odyssey owners will love that Honda has added a complimentary scheduled maintenance plan for all 2023 models. It will cover oil changes and other dealership maintenance services for the first two years or 24,000 miles, whichever comes first.
Why Should You Buy or Lease from Bob Lindsay Honda?
We are committed to offering impeccable customer service from the moment you arrive at our dealership or speak to one of our associates. We want you to know how smooth, stress-free, and enjoyable the car-buying and leasing experience can be, and we strive to do everything within our power to make it that way for you. Whether it's walking you through the various trim options of your favorite model, setting you up on test drives, pointing you toward incentives and special offers that can save you money when you buy or lease, or helping you sail through the financing process, we're in it together.
So why wait another day? Contact us with any questions, or stop by our dealership, located at 900 West Pioneer Parkway in Peoria. We look forward to helping you find your new car!